Choosing to embark on tours with knowledgeable local guides provides our community with economic support and demonstrates that our environment here on the Osa is most valuable as is.
We are here to provide you with additional information, check into availability, and book tours for you. Most tours require 24 hours advance notice, cancellation fees will apply.
Total Relaxation
There are a wide variety of adventures that you may choose to embark on. Remember, you are on vacation and one of the greatest activities of all may be to simply relax. Check out our miles of uninhabited beach, feel the sand between your toes, listen to the waves, read a book and enjoy a tropical drink, then top it all off with a siesta. There are also a few lodges offering yoga, massage, and spa services.
Rainforest Hike
Explore and learn about a biologically diverse tract of rainforest. You have the potential to see four different kinds of monkeys, scarlet macaws, toucans, sloths, coatis, anteaters, tapirs, iguanas, poison arrow dart frogs, and much more. Spend time on the beautiful beaches and hike to a stunning waterfall hidden in the forest. Observe the variety of birds; learn about the ecosystems, as well as medicinal and local uses of different plants and animals.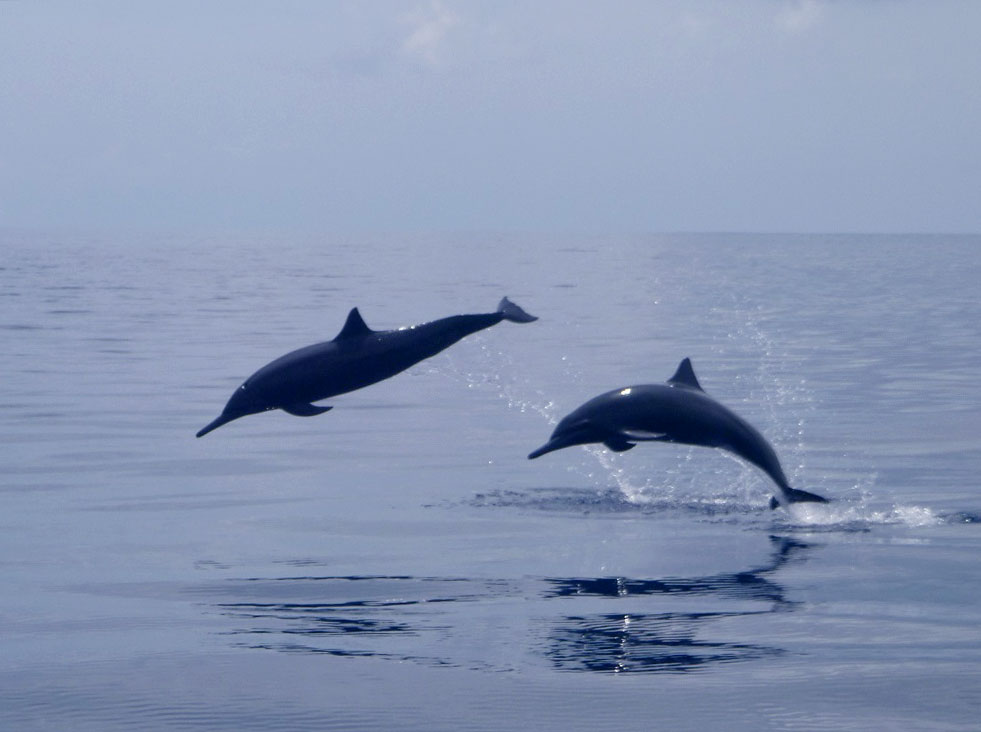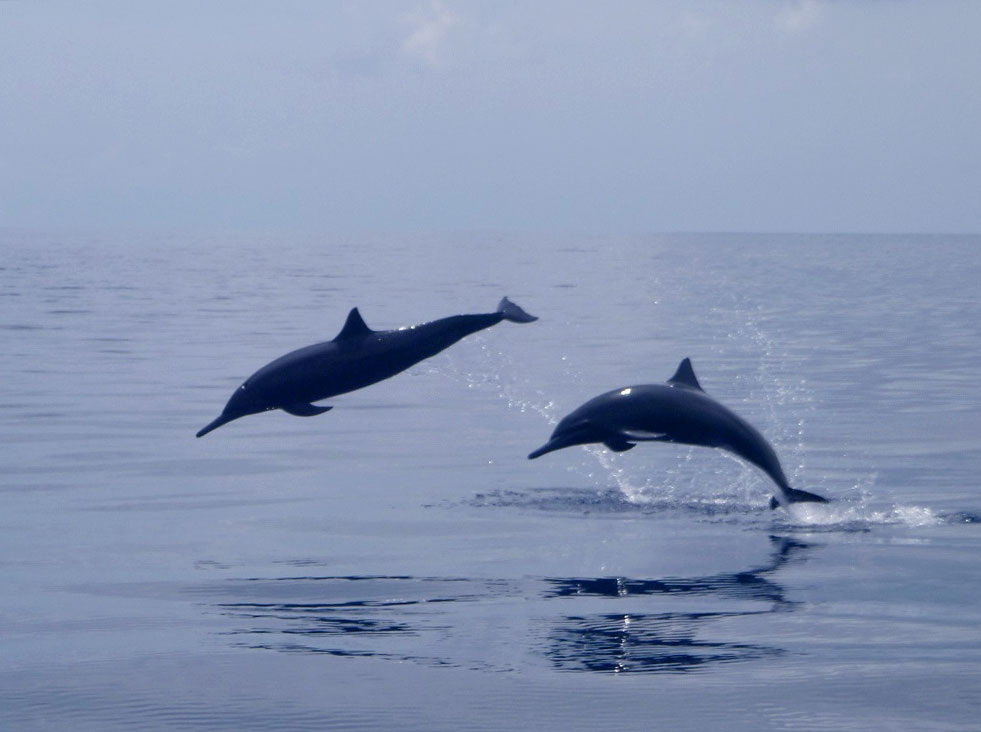 Dolphin and Whale Watching
While aboard a smaller boat you have the opportunity to view dolphins up close. A variety of boats are available to tour the gulf in search of Dolphins and Whales. Huge schools of resident spotted dolphins can often be seen within the gulf. Dolphins known to be in the area are Spotted, Spinner, White-bellied and Bottlenose Dolphins
Sunset Dolphin Watch Kayak Tour
This is an easy paddle within the gulf which departs from the beach in Puerto Jimenez. Keep your eyes open for dolphins, turtles, and rays. You will stop on the nicest stretch of beach in the Osa for a swim and a little snack. As you kayak back into the gulf enjoy an amazing view of the sunset. If you would like, you can stay out until dark and watch the water light up with photoluminescence. The trip takes 3 – 4 hours. Dry bags are supplied (for all your gear, cameras, and video gear) water bottles, snacks, kayak and paddle, a life jacket, and a knowledgeable guide. No kayaking experience is necessary.
Mangrove Kayak Exploration
This trip explores the mangrove estuaries near Puerto Jimenez. Your knowledgeable guide will lead you down a river under the canopy of 70-foot mangrove trees. Learn about the bio-diversity of the mangrove and look for all types of wildlife. Possible sightings are monkeys, raccoons, river otters, iguanas, Jesus Christ lizards, crabs, crocodiles, caimans, snakes, butterflies, and a wide variety of birds. Snacks such as seasonal fruits, cookies, and peanuts are provided. You will have time to swim on an isolated stretch of beach. The trip takes 3-4 hours, dry bags, water bottles, snacks, kayak and paddle, life jackets are supplied. No kayaking experience is necessary.
Tree Climbing
This is a popular half-day tour in which you will climb the braided roots of the "Cathedral", a massive ficus over 200′ tall. Using quality climbing gear, you climb the inside of the tree using the strong roots as hand and footholds. You are belayed halfway down and from this point, you swing from the inside to the outside of the tree for an eye-opening perspective. You can rappel down, be lowered by your guide, or get your adrenaline rushing with a free descent to the forest floor.
Waterfall Rappelling
Hike up and around a series of waterfalls nestled in a lush rainforest. Become part of an immense canyon as you rappel over the ledge of a rushing waterfall that descends over 110 feet. Tour includes instruction regarding equipment use and safe rappelling procedures. During the drier months, the waterfall springs slow to a trickle creating an incredible wilderness amphitheater. Since all life is dependent on the water this canyon is a sure spot for wildlife sightings.
Zip-line Canopy Tours
One wonderful way to explore the enchanting forest in our area is from the treetops. When using canopy zip lines and platforms you have access to a fantastic way to explore the unique habitat of the rain forest treetops without disturbing the wildlife or endangering the trees themselves. Platforms are built into the strongest trees and a zip line is strung in between them.
Tourists are then sent zipping through the forest from tree to tree on these lines via a safety harness. There are also a few small sections of easy hiking in between some of the platforms. Canopy tours generally cater to the more adventurous tourists who enjoy the adrenaline rush but are easy enough for most people. The tour generally lasts around 1.5 hours and includes a fresh fruit snack at the end.
Horseback Riding
There are options for half and full days tours to a few different locations. You may choose a tour that takes you along mangroves and beach or one that goes to a small gold mining community and the backside of Corcovado National park. Regardless of which trip you will enjoy the scenery, looking for wildlife, and a swim. This is a great option for horse and nature lovers.
Surfing
The Pan Dulce beach surf break in Matapalo is the perfect place to learn to surf! The water is warm and the waves here are gentle and great for learning. This tour is kid-friendly as long as they are comfortable swimmers. You will be using a soft-top longboard and receive guidance and tips, and even a push, from your instructor. For those more advanced there are numerous other breaks in this area.
Chocolate Farm Tour
At Finca Köbö you can learn about traditional cacao plantations while the family shares the history and the culture of this tropical crop. Learn about the origin of the cacao tree, understand its purpose and benefit to the animals living in the rainforest such as monkeys, coatis, sloths, and many more. You will see different species of cacao fruit and taste fresh fruit from the "chocolate tree". Enjoy a wonderful chocolate fondue with fresh fruit and homemade banana bread from the farm in a quiet place in the middle of a tropical garden.
Casa Orchidia
Tour a lovely and unique botanical garden that is backed by Piedras Blancas National Forest and is accessible only by boat. Ron and Trudy McAllister moved here over 27 years ago. They will give you a 2.5-hour tour of their botanical gardens explaining the ornamentals and providing samples of the edible plant species. Enjoy the beauty of the hundreds of different species of tropical orchids, heliconias, bromeliads, and palms.
Caña Blanca
Cross the Golfo Dulce by boat and visit the non-profit Wildlife Caña Blanca Foundation. Learn about the rehabilitation programs and participate with the injured and orphaned animals, most of them endangered species which will eventually be released at Piedras Blanca National Park.
Corcovado Tour
Corcovado National Park covers 1/3 of the land in the peninsula; it was placed into protected status as a national park in 1975. This remote, exciting, and isolated environment offers a great opportunity to see larger mammals. There are a wide variety of options in which to see Corcovado; day trips, multi-day, and chartered flights. You may opt for the scenic drive where you can take in views of the Pacific and the coastline of the gulf, or choose to charter a 15-minute flight and take in the aerial views of the Osa. Serious hikers can choose multi-day guided trips filled with extensive hiking.
Gold Panning Tour
Take a day to explore the Osa Peninsula and experience panning for your own gold. Enjoy the cool river water and a small waterfall. You will learn how the gold is separated from the rocks and sand and can keep whatever you may find.
Massage
Massage therapy sessions can often be arranged right in the comfort of your own room.
Yoga
Depending on instructor availability, private or group yoga sessions can be arranged.
There are many other activities and tours that may interest you. Also available are; mountain bike, quad and vehicle rentals, cacao farm tours, real estate tours, bird watching, night walks, beach exploration, and snorkeling trips.