Kayak Fishing
Tosh Talbot Adventures
Our Adventure
Join Tosh on a kayak fishing trip in Puerto Jimenez, Costa Rica. This is an all-inclusive trip. Gear, fresh fruit, and water will be provided. To start our journey we will meet on the right side of the public pier in Puerto Jimenez.  We will fish from 6 am until 11 am. There is a possibility of seeing dolphins, turtles and of course lots of fish! Tosh can take up to three people per trip.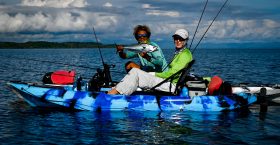 ---
About Tosh
Tosh was born in Costa Rica but also has Canadian roots. Growing up he spent part of the year in Canada and the other half right here in beautiful Costa Rica. He is fluent in both English and Spanish and is a knowledgeable waterman. Tosh spends the majority of this time in or near the ocean and is a high-ranking competitive surfer in Costa Rica as well as an avid fisherman. He has had a passion for fishing since he could walk and started fishing with his father. One of his favorite fishing memories is when he caught a sailfish on a handline right here in the Gulfo Dulce.  Tosh's passion for fishing and his excitement is contagious. He has the experience, knowledge, and ability to provide you with a fun, safe, and active day on the water. Many anglers have been nothing short of impressed by Tosh's skill at guiding and providing a day of action on the water. We hope you have an opportunity to experience kayaking fishing in the magical Gulfo Dulce with Tosh.
"Captain Tosh is an anomaly as a guide and mature beyond his years.  I'm not just referring to his fishing expertise but it's his passion for assuring an experience of a lifetime for his clients that conveys an enthusiasm that's contagious. After retaining professional fishing guides all over the world, I'm qualified to say that he will become one of the best in his field and for this angler – a fishing partner for life. The thing that I love the most about fishing in the Osa Gulf is the possibility of catching a fish of a lifetime – almost every time you venture out" - Tom Olivo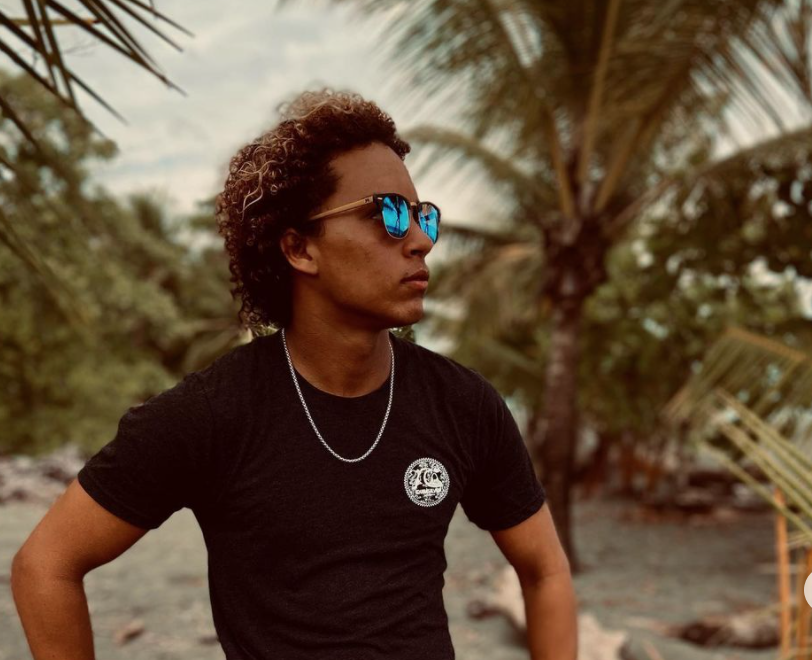 ---
The Kayak Fishing Experience
Although you are being guided, you are still doing it yourself. You are in control and have the opportunity to be your own captain. In a kayak, you are close to the surface of the water.  It is remarkably quiet; no engine noise or exhaust fumes. You feel at one with the ocean and are forced to pay attention to the environment. It is peaceful, tranquil, and can also be exhilarating.  You will also get a great workout as there is no speedy ride back to the beach.  Hook a big fish, and the fish could tow you around for a bit. Kayak fishing can be a thrill unlike any other. 
Tosh targets Golfo Dulce fish from his kayak and while doing so has racked up many adventures, hence the name he has given to the tour he offers.  Tosh loves to target Roosterfish and Jack Crevalle. You also have a chance at Mackerel, Dorado, Snook, and Snapper in the mangroves. You may try a variety of fishing methods from trolling live bait, as well to stopping to jig or cast poppers. Tosh will cater the tour to your athletic ability. You can stay close to shore and minimize the amount of paddling, or if you want a more strenuous workout and want to head out for further adventures Tosh is up for the challenge. You may visit river mouth drop-offs where there is plenty of bait. You will also kayak along the beach where the gulf drops off from 5feet to 200ft. Dolphins are frequently seen in this area.
---

---
Gear
Our fishing kayaks are 10 feet long and very stable.  Each kayak is outfitted with comfortable and supportive Stadium Kayak seats which have you seated above the kayak. Each kayak is also outfitted with rod holders and a live well.
Tosh provides all the needed equipment for your kayaking adventure. He will be there with the rods, reels, and lures all set up for you.  There are bait feeder reels for live bait trolling, spinning reels for jigging, popping, and catching bait.
Your guide has a GPS sounder to keep you around the bait balls and on the action as well as two-way Radios for ease of communication. Life jackets are also provided.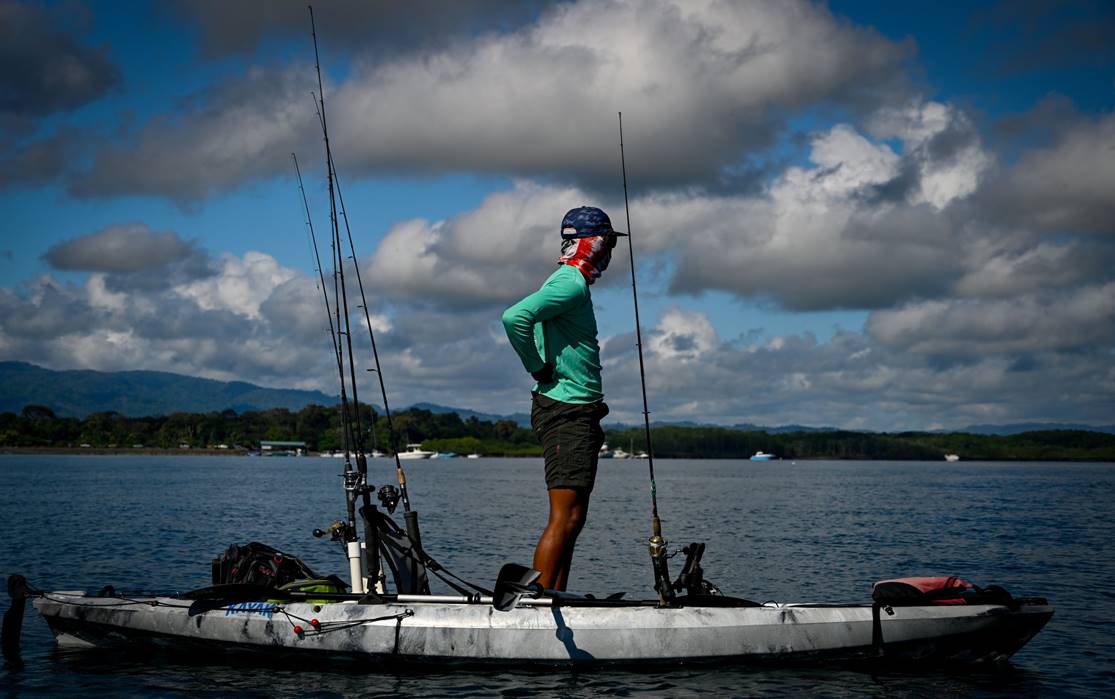 Trip Reservations
The trip cost is $150 for one person 
$250 for two people
$350 for three people. 
Deals can be made for people who wish to fish more than once.
What to Bring
Waterproof camera
Wear sunscreen
Lightweight pants are great, or a sarong or thin towel to cover your legs.
Hat and sunglasses are highly recommended.
---
Testimonials
"Fishing with Tosh was the highlight of my Costa Rica vacation. After a couple of days of fishing from a charter boat, we got a whole new appreciation for the strength of a roosterfish. Fighting a 40lb rooster from a 10-foot kayak was a rush - if you're into cranking the excitement level up a notch give Tosh a call. In addition to catching a trophy Rooster and a nice Dorado, we saw loads of wildlife including dolphins and even a crocodile. Tosh is a very professional guide and, following in the footsteps of his dad, an accomplished fisherman. I will absolutely fish with Tosh again!"  -Trevor Chandler
"I booked a trip with Tosh in January 2021 as a way to get out of my comfort zone while visiting the Osa Peninsula. I am a 22-year-old who had never been fishing and I wanted to try something new with an experienced guide. I can gladly say Tosh was the right choice. I had a blast. Not only did we catch a few fish, but Tosh also did a great job of teaching me how to hold the rod, reel in a fish, and hold one for a photo! On top of all that I was able to see tons of wildlife while kayaking. Tosh is a great guide. I highly recommend booking with him!"  -Emily Carson

 
"Fishing with Tosh has been special for me. We started fishing on the beaches near his home and more recently fishing from kayaks near the Puerto Jimenez harbor. When we go very early in the morning, the sea is usually calm, the bait is shimmering on the surface of the water and when the sun rises it's like paddling through a sea of sparkling diamonds. In the distance on the east side of the gulf, the mountains fall into the sea and the low layers of clouds against the mountains add to the uniqueness of this special place. In the kayak you are so close to the water you feel like a part of it. I actually find the whole experience spiritual. In this environment, you have a good chance to hook a very large "rooster" on a light tackle who will tow you around for a considerable distance. It's the Puerto Jimenez equivalent of a "Nantucket Sleigh Ride". I will be 80 years old this year, Tosh is a teenager, we both have a passion for fishing since we were kids. He watches me closely and assists me when necessary. I've fished with a lot of excellent guides all around the globe and he is right up there with the best of them, always prepared and most of all, we both have fun! Pura Vida."

-Dave Horn
"My wife and I booked a kayak fishing trip with Tosh. When we showed up, he had the kayaks and all the gear ready to roll.  We went out and caught bait first which was a blast in itself. My wife caught a giant catfish to start the morning off.  Over the next few hours, we hooked numerous roosterfish, lost a few, and landed three. The area we kayaked to was incredibly beautiful, we fished near the beaches where the roosters were on the bite. Between the sunrise, beautiful beaches, and constant action on the rods we had an unforgettable experience.  I would highly recommend this tour to anyone visiting the Osa. It's a great way to spend a half-day on the water! Tosh receives 5 stars!"  -Eric Strader
From the moment you arrive at the Gulf of Dulce Bay in Puerto Jimenez to begin your Kayak fishing adventure, you are immediately taken by the sights, sounds, and challenges of the undertaking. As you load your equipment into the narrow craft, there is a heightened anticipation as to what you are "most likely" going to experience. I say most likely because this particular body of water is known for being an extension of the most bio-diverse habitat on the planet. An aquatic environment where to date I've already hooked, fought, and landed a total of 55 different species of gamefish to date. Some, much larger than yours truly and the kayak itself.   -Tom Olivo
Read More Here: Kayak Fishing on the Osa Peninsula in Costa Rica